Australian Wagyu Tri Tip Package
$207.95
Availability: 10 In Stock
Each package contains:
(3) 1.75 – 2.25lb Tri Tips MBS 4-5
(1) 2lb Wagyu ground beef
FREE SHIPPING
The Tri-Tip is a staple of Central California cuisine. This triangular cut from the sirloin is famous for its performance on the grill. While the Tri-Tip is lean, it's bursting with flavor. Our Australian Wagyu Tri-Tip MBS score 4-5 comes in a hearty 1.75lb to 2.25lb cut and has the rich taste you expect from MTB.
Our natural wagyu ground chuck comes from humanely raised cattle on family farms that are never given antibiotics or hormones. Once you try this amazingly juicy Australian wagyu, you will never want to go back to anything else.
approximate package weight 8.75 lbs
10 in stock
Compare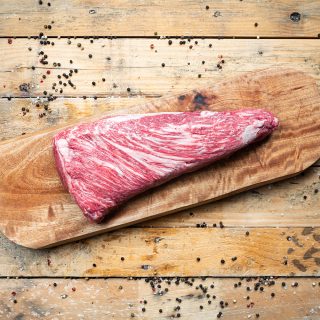 Australian Wagyu Tri Tip Package
$

207.95