32oz Australian Wagyu Tomahawk Package
$204.95
Availability: 7 In Stock
Each package contains:
(2) 32oz Wagyu Tomahawks MBS 4
(1) 2lbs Wagyu ground beef
FREE SHIPPING
Meat The Butchers is proud to feature our 32oz Australian Wagyu Tomahawk MBS 4. All the quality you would expect from MTB with the unmatched dining experience of Australian Wagyu. These steaks are all cut to order and wet aged a minimum of 21 days. All steaks are 100% Natural with no added hormones. Each beautifully cut steak is a richly marbled, full ribeye steak attached to a long, exposed bone. These large steaks include the coveted cap of ribeye so they're amazing in appearance and incredibly delicious.
Our natural wagyu ground chuck comes from humanely raised cattle on family farms that are never given antibiotics or hormones. Once you try this amazingly juicy Australian wagyu, you will never want to go back to anything else.
approximate package weight 6 lbs
7 in stock
Compare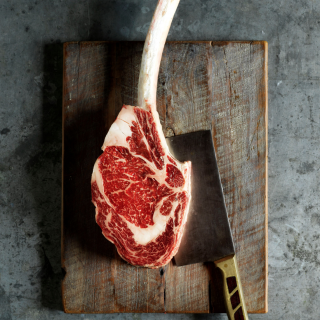 32oz Australian Wagyu Tomahawk Package
$

204.95